Music is as much a part of the World Cup as the ball that gets kicked about. Here are the songs you'll be hearing a lot of this year.
Every four years when the Fifa World Cup rolls around, fans crowd together around their television sets to point out ludicrous dives and fouls while yelling out technical terms that leave others dumbfounded. But it's not all just a game. The music has been a defining part of the worldwide events, a soundtrack that celebrates the unity that the tournaments promote — and giving something for those of us who don't understand the offside rule something World-Cup related to enjoy. Here's tabloid!'s look at the songs and lyrics to chant during this year's Fifa World Cup.
Watch Music All Music Videos of Footbal World Cub History with Details & Facts
K'naan — Wavin' Flag
"You and I will be singing it": The third single of Somalian-Canadian rapper K'naan's Troubadour, Wavin' Flag is loaded with war-torn lyrics and heavy beats, a tune that reminds people of the bigger picture and the importance of trudging forward.
Its message of freedom and solidarity makes it perfect as Coca-Cola's 2010 World Cup anthem. It topped charts in Germany, Austria, and Switzerland, and secured the number two spot on the Canadian Hot 100.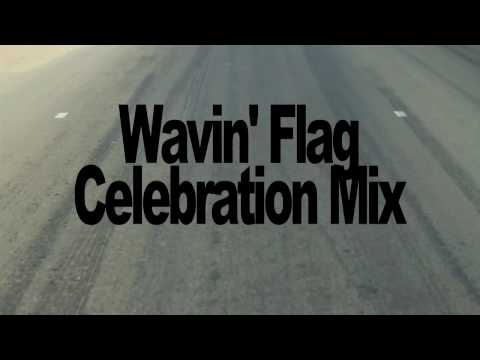 Shakira ft. Freshlyground — Waka Waka
"This time for Africa": Despite being known for her charity and humanitarian work, the Colombian pop singer Shakira got a lot of flack this year for being the main singer of the official Fifa 2010 World Cup song, with some critics saying it should've been left to a South African artist.
Regardless, she gives it her all with her titillating vocals, supported by the South African group Freshlyground in a song that's powered by Soca beats and a mix of Afrikaans and English lyrics.
[media id=102]
Focus — Hocus Pocus
"Write the future": Somewhat of a hidden gem, Hocus Pocus is more than six and a half minutes of pure instrumental ecstasy. The song swings between a raucous rock riff and a series of solos that give each instrument — including a flute, accordion and organ — their chance to wow the listener. Nike used nearly two minutes of the song for Write the Future, a 2010 Fifa World Cup commercial.

Martin PK —Stand as One
"Big like Michael Jackson": The name says it all. The upbeat tune is perfect to stomp your feet to, but Stand as One — part of the World Cup music collection this year — is much more than just a dance number. A set of rousing lyrics that send out the message of solidarity are sung by South Africa's own Martin PK, and composed by David Compos, who comments: "Music is a mysterious force that bypasses people's minds and goes straight for the heart."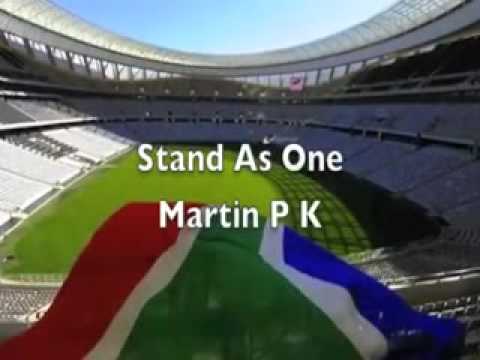 Rola Sa'ad and Kelly Rowland (ft. various artists) — Everywhere You Go
"You work hard just to play harder": The voice of the Middle East in this year's FIFA World Cup, singer Sa'ad doesn't say much more than "yalla, yalla" (c'mon, c'mon) in this World Cup song which includes Kelly Rowland amongst other artists.
However, there's a smooth flow of diverse styles — from Mediterranean crooning to rap, pop and R&B — that underlines the event's message of unity.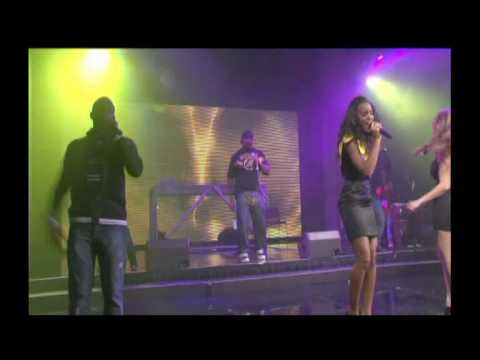 The Lightning Seeds — Three Lions
"Football's coming home": Released in 1996 as the anthem for the English team during the European Championships, Three Lions resonates as one of the most popular football songs ever recorded. It's been re-recorded by singer Robbie Williams and comedian Russell Brand for the 2010 Fifa World Cup. Ironically, the song doesn't wave the winners' flag, but focuses on England's unwavering hope in the face of repeated losses.

Blast from the past
Queen — We Are the Champions
"No time for losers": An iconic band with an iconic sound, Queen made this tune just as much an anthem today as it was back in the '70s when it was first released. The official song for the 1994 Fifa World Cup, the lyrics are empowering and liberating, making it ideal for any sporting tournament, major life event or a passionate session of hairbrush-in-the-shower singing.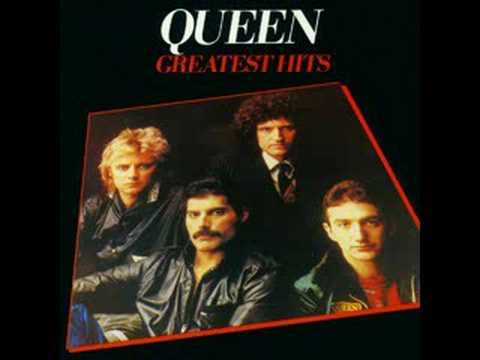 Anastacia — Boom
"Fight to win": Pop songs aren't usually equated with intensity, but Anastacia's song Boom manages to be something you'd pump your fist and stomp your feet to. Football is all about taking control and keeping it at all costs, and so is this song, making it ideal for the 2002 World Cup.

Il Divo with Toni Braxton — The Time Of Our Lives
"We'll find the glory in the game": R&B singer Toni Braxton's defiantly deep vocals go perfectly with a match of sweat-breaking football. Braxton brings the soul, while the multinational quartet Il Divo add a certain power with their style of pop music sung like opera. The artists collaborated on this song for the 2006 Fifa World Cup.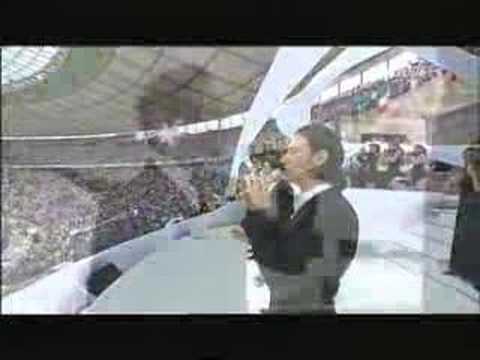 Ricky Martin – La Copa de la Vida (The Cup of Life)
"Go, go, go, ale, ale, ale!": First released in Spanish on Ricky Martin's fourth album, its English translation was released on his fifth. It became an anthem for football after it was the official song of the 2008 Fifa World Cup, and has proved to be ageless and applicable during every tournament. Warning: one listen can make it your own personal earworm the rest of the day.

Nancy Ajram – Wavin' Flag
Arabic superstar Nancy Ajram will be in town to officially kick off the One Marquee celebrations at The Dubai Mall and Burj Khalifa.
The singer will perform the Arabic version of K'naan's Fifa World Cup 2010 song Wavin' Flag, which was chosen as Coca-Cola's promotional anthem for the event in South Africa, tonight.
One Marquee is a double-decker, air-conditioned tent located on the steps between Burj Khalifa and The Dubai Mall. The launch is by invite only but One Marquee will be open to the public from tomorrow for the opening ceremony and matches as well as the rest of the month-long tournament.
[media id=88]
Big screen for a big game
Cramped tents and bustling bars offer an undeniably-unique World Cup atmosphere. But with reserved armchairs, air conditioning, surround sound and a 20-metre screen, it will be hard to top a Fifa 2010 World Cup game at the cinema in the comfort stakes. All Grand Cinemas and CineStar Cinemas will be showing the games daily at 3.30, 6 and 10.30pm depending on the fixtures.
Even better, anyone who attends a World Cup match at CineStar will go into a draw to win a Hyundai Sonata 2011 Model — one of the main sponsors of the Fifa World Cup — as well as a gift from Coca- Cola. Tickets, priced Dh30, are available as usual from the box office. The first matches include South Africa vs Mexico at 6pm tomorrow, followed by Uruguay vs France at 10.30pm.
– By Marwa Hamad, Staff Reporter & Kelly Crane, Staff Reporter at Gulf News
---