Indian tennis star Sania Mirza with her husband and Pakistani cricketer Shoaib Malik upon their arrival from India at the Karachi International Airport in Karachi.
– Valima Pictures (Sialkot)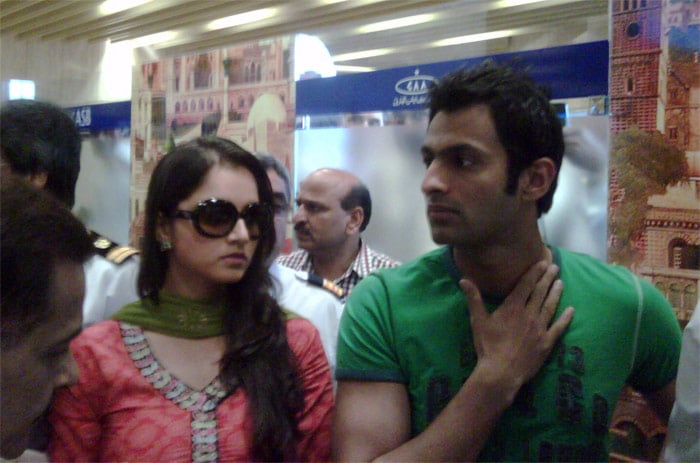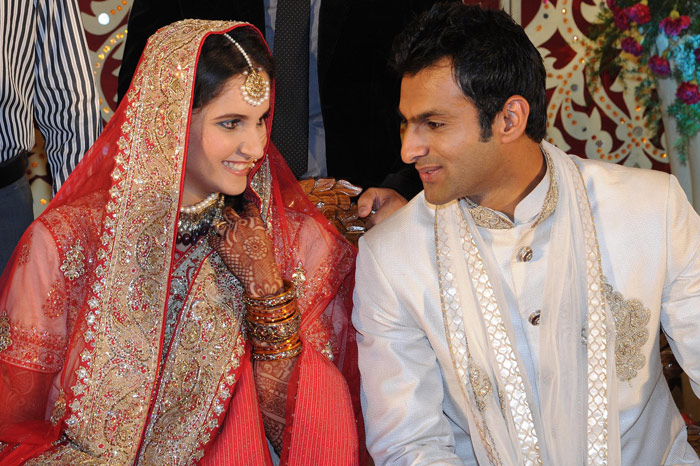 The wedding reception of India's tennis ace Sania Mirza and Pakistani cricketer Shoaib Malik turned out to be a low key affair. Nearly 1000 invitations were distributed, some 500-600 turned up.
The duo originally planned to marry on April 15 but the wedding date was advanced after the tumultuous build-up and Sania Mirza tied the knot with Shoaib Malik on April 12 at a private ceremony in Hyderabad.
Decked in a red saree, which her mother Nasima wore in her nikah 25 years ago, Sania thus became the second wife of the Pakistani cricketer, who divorced his first wife Ayesha Siddiqui last week after much mud-slinging.
It was followed by Mehndi ceremony which took place on April 13. The Sangeet ceremony of the newly-weds was held on April 14 at a hotel in Hyderabad on Wednesday.
Newlywed and hailed as cross-border peace ambassadors, Sania and Shoaib arrived in Pakistan to a frenzied reception.
---