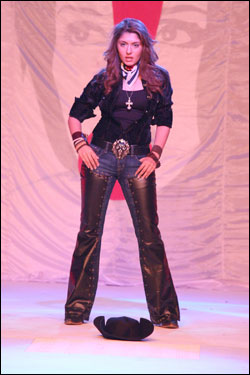 She's young, she's beautiful and with her very first collection launched under her newly established fashion label 'Sanam', she has proved that she is talented too. Sanam Agha isn't a new kid on the block – she's been part of the fashion and media blitz by juggling various roles. She has acted in various high-profile TV dramas and she has hosted music programmes on Aag TV. Sanam has also had a stint at event management at Frieha Altaf's Catwalk and she has even modeled in many of the shows she has organized; the Madonna improvisation she did at the Sunsilk show and the dramatic robot-role she undertook at the Castrol show being two of the most memorable.
Over the past four years, this girl has constantly been adding feathers to her cap and finally she has decided to settle down with the one vocation she trained for at London Fashion School: fashion designing.
Sanam launched her very first collection – an amalgamation of womenswear, menswear, saris, formal chiffon ensembles, party dresses and even jackets and trendy coats for women. And considering the stronghold this girl has on fashion as well as the innate love she has for drama, one can't wait to see her bring it all together at her very first fashion show scheduled to be held early next year. Here's a very warm welcome o fashion's new promising designer!