Veena Malik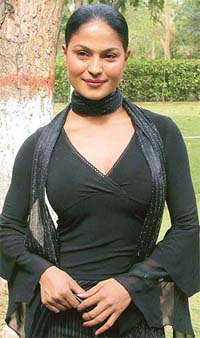 Admit it girls, we all fancy our celebs. The glitz of their glamorous world attracts us – what they wear, where they shop, what they dream of, their love-interests, their favorite things – we love to get the scoop. Keeping this in mind, from time to time Mag4you.com is going to share some interesting tete-a-tete with popular celebrities. This time around, we were lucky enough to get hold of Veena Malik, the lady who seems to personify the word supporting actress! But of late the lady has been making waves in the comedy scene with shows such as 'Hum sab umeed se hain'. The girl has worked hard to get to the point she's at, battled many a controversy and still came out shining! Let's take a look at her likes and dislikes…
My biggest asset:
My family
I wish I could:
Do something to solve the problems of the people of my country.
One person I would love to dine out with:
President Musharraf
My worst nightmare:
Loosing someone close
My strength:
My confidence
My definition of love is:
Love is as important as any another thing in life generally is. A necessity I would say.
One thing I hate about myself:
There are several things I hate about myself: at times I act very impatient. Then I eat a lot and behave carelessly.
I regret:
I never regret anything as I feel that good and bad things are a part of one's life.
I feel over cloud nine when:
When I achieve the targets that I set for my life both personally and professionally
I get dejected when I see:
The suffering of common people and young children
Something that I am strongly possessive about:
My belongings
I get turned on by:
Nice smells
When feeling low I prefer:
To meet people I admire and feel close to
The most unforgettable moment of my life was:
When I used to get trophies
What touches me the most?
Nature inspires me a lot and in human beings I adore their sincerity
If I could be another person I would like to be:
Veena Malik again
What bores me the most?
When I'm being flattered for no good reason
My message:
Live & let live
Source: Mag4u